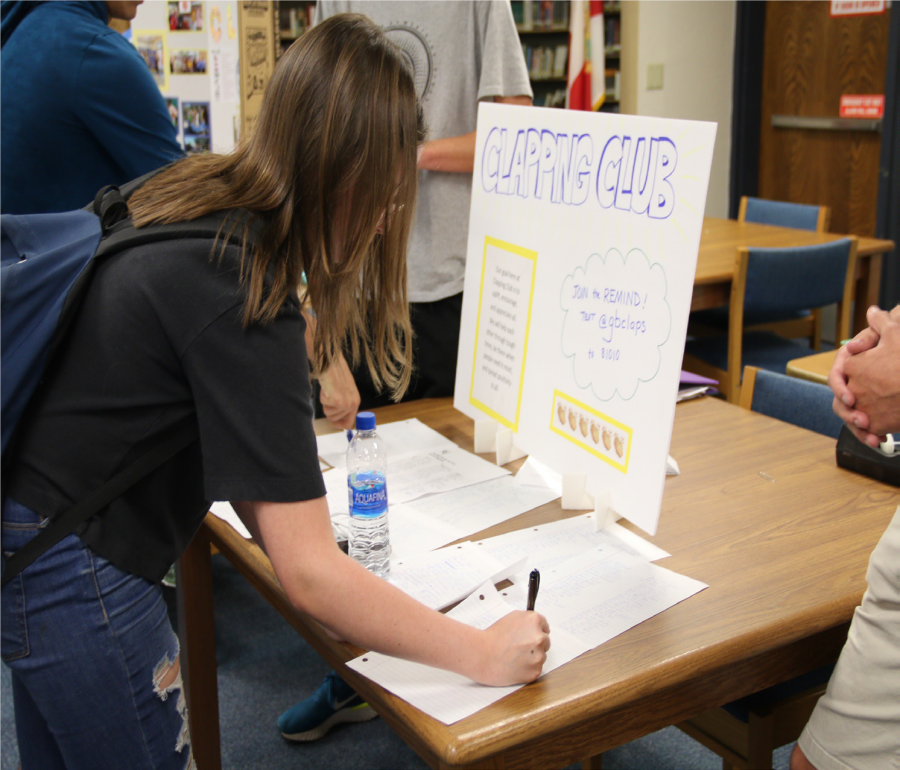 Photo by Kate Allison
Elisa Williamson
STAFF WRITER
One of the many things that Gulf Breeze High School is most well-known for is their diversity of clubs. Gulf Breeze offers a large variety of clubs, so that every student has a place where they fit in and where they can do things that they enjoy. There are so many clubs that it is difficult for students to know what is going on. Therefore, every year GBHS has Club Rush.
During Club Rush, which was held on Sept. 4, lots of students came into the library to view all the interesting programs offered. Students could see that the clubs can be about politics, the environment, service, entertainment, and so much more.
These clubs are made so that everybody at Gulf Breeze High School can be a part of something. Therefore, they can include anything and everything. Each club has a stand at club rush where they have posters, flyers, decorations, and anything else that shows what their club does and encourage people to join. For example, Natalya Sarkari was representing Green Club. She spoke about what Green Club does and how they grow organic food at community gardens and donate it to the Gulf Breeze Zoo.
The main reason students enjoy Club Rush so much is they like to see the new activities being offered. Club Rush might make students interested in something that they might not have thought about before.
"It is a great opportunity to meet new people, learn about new things and get service hours from the clubs there," said Madeline Ruffin, a sophomore. Club Rush is especially important for freshmen and new students because they get to see what Gulf Breeze High School is about.
One of the more interesting clubs that have started this year is the Clapping Club. The clapping club was started by a couple students in Mr. Phan's class. The students kept clapping, so Mr. Phan made a joke about them creating a Clapping Club. However, the students decided to make the idea come true.
The goal of the club is to spread positivity by going to sporting events and other activities to cheer on the school, having a safe and comfortable environment for students and doing lots of community service.
Michael Werner, one of the students to start the Clapping Club, said, "We want the club to make every single sport feel like people enjoy watching it and we want to try and make students more active in helping the community."
The Clapping Club was one of the many clubs at club rush that had a stand. This just goes to show how a silly idea can make a big difference on a school and its community.
Club Rush has always been a big part of Gulf Breeze High School because clubs are truly one of the most important contributors to the success of the school. From Key Club to Young Democrats to Dungeons and Dragons, without clubs Gulf Breeze would not be what it is today.