Club Beat: November
   A-Team students qualify for state
Three GBHS students qualified for the A-TEAM state level academic team. These students all placed first in their respective subject areas. Please congratulate Jack Gordan who qualified for science, Thomas Bruce who qualified for English and Aaron Rak who qualified for Social Studies. The district will be putting a team comprised of four member who will be traveling to Orlando in April to compete against other Florida high school students. Please also congratulate Zella Tavai who placed second in math and Andrew Nettles who placed second in Social Studies.
   GBHS choir makes history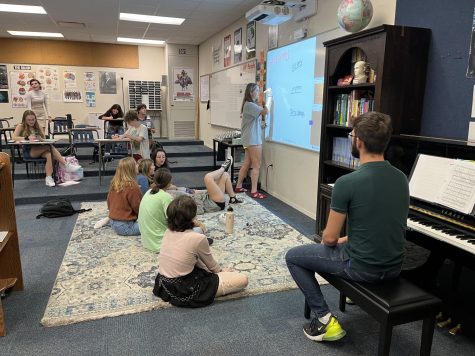 Choir students practice for an upcoming competition.
On September 10 Gulf Breeze High School choir students auditioned for the All-State choir. Students, Alyssa Wright and Collin Buck both 9th graders, passed the written portion and moved on to round 2 the same day. Collin then passed round 2. He received tons of hard music to learn and had a month to learn and perfect it on top of being a part of dive team. After patiently waiting 3 weeks for judges to score every student in the state, Collin has made GBHS history as being the first student to make All-State Chorus! He will be heading to Tampa in mid-January to perform.
   Medical Academy students earn BLS certifications  
BLS is basic life support. It is a step up from CPR for healthcare workers. They took a course within our healthcare science course to earn the certification that included a written test and a skills check.
More Club Beat:
Club beat: December – The Blue & Gold (gbhsblueandgold.com)
Club Beat: Februrary – The Blue & Gold (gbhsblueandgold.com)