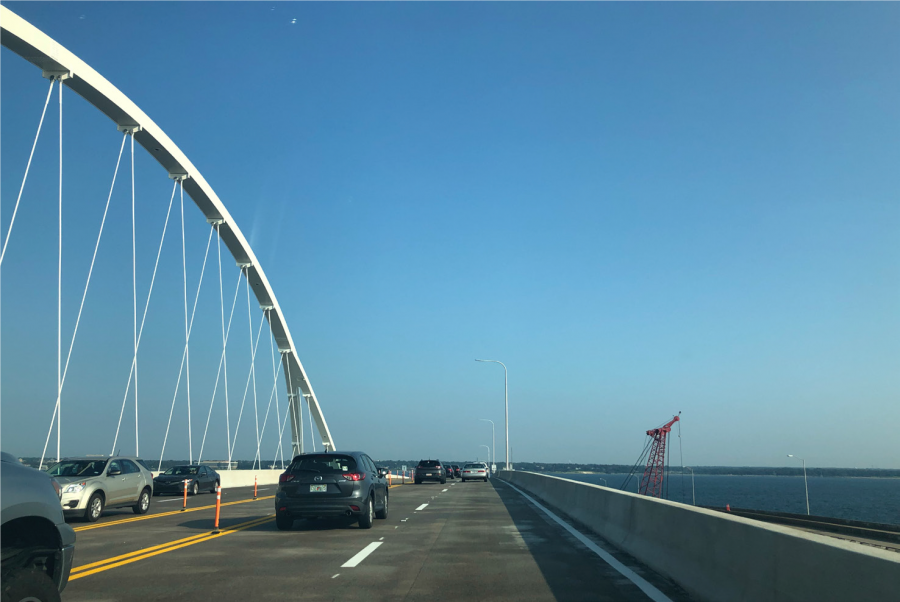 Photo by GBHS Staff
NATALYA SARKARI
STAFF WRITER
Over two years ago, construction on the new Pensacola Bay Bridge began. The original opening date was back in June, but the grand opening was pushed further back so that the bridge did not open until after Labor Day.
On Saturday, Sept 7, the first two lanes opened. The lanes were only going from Pensacola to Gulf Breeze. The following Sunday morning, the other half of the first bridge opened, allowing for two-way traffic, closing the old bridge completely.
The next step will be to demolish the old bridge and build a new one in its place. Both bridges, with all three lanes complete and the walking paths open, are not projected to be finished and opened until mid-2021.
The new bridge will consist of two separate bridges: one heading west and the other east. There will be three lanes of traffic on each bridge, as well as a 'shoulder' for cars to safely pull over in case of emergency.
There is also going to be a path on both bridges for people to walk and bike safely on. The current bridge, which was built in the 1960's, has only two lanes of traffic and does not have separate lanes dedicated to pulling over, walking, or biking; which makes it inconvenient for other drivers if there is an accident and very unsafe for both pedestrians and bikers.
The new bridge costs around $398.5 million and is approximately fifteen feet taller than the older bridge. This will allow for more boat traffic to pass under the bridge.
The construction of the bridge has not directly impacted traffic, but a lot of businesses on the waterfront near this constant construction have been affected by the continuous building.
Steve Lillo, the owner of the family owned Italian restaurant Lillo's, said, "The construction and new pavement has definitely affected business, but it's got to be done. The community needs it. [Once it is finished] it will be a great help for business. It will be nice to have more customers coming in from over the bridge."