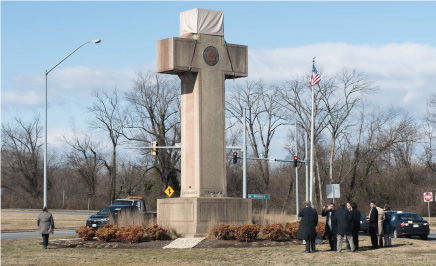 Photo from AP Images
HANNAH GOTO
NEWS EDITOR
A previous court ruling that caused the Pensacola Bayview Park Cross to be taken down may be revisited after a Supreme Court ruling on a similar case from Maryland.
In the Maryland case, a 40-foot World War 1 memorial in the shape of a cross was allowed to stand by a public median, as well as be maintained by public officials. It was questioned for its religious nature while being maintained with state funds.
The final ruling was a 7-2 decision to keep the cross up, with Justice Samuel Alito writing on opinion that says "When time's passage imbues a religiously expressive monument, symbol or practice with this kind of familiarly and historical significance, removing it may no longer appear neutral."
The Pensacola Cross may be able to return if it's supporters receive a similar ruling on their case in the 11th Circuit Court of Appeals.
The cross was originally taken down for a violation of the establishment clause, as well as a breach in the division of church and state, as the property the cross stood on was publicly owned.
For the most part, residents of the area seem to be in favor of the cross going back up, Pensacola Mayor Grover Robinson IV states, "We welcome the Supreme Court's ruling upholding the Maryland Peace Cross, and we look forward to a similar ruling in our case."
Although a court date has not yet been set, this case has been causing quite a stir within our community.
With the new Maryland precedent, and the support of locals, little seems to be stopping the cross from returning to the park. These shifts and reinterpretations of our rights only go to show that our Justice System is hard working, and ready to re adapt at a second's notice.