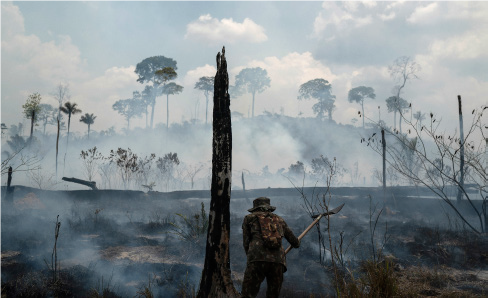 Photo from AP Images
ERYN FLYNN
STAFFF WRITER
For the past few weeks, a record-breaking number of fires have been blazing through the
Amazon rainforest.
As many know, the Amazon rainforest is a vital part of the world, so much so that it has been
referred to as the planet's "lungs" as it produces nearly 20% of all the oxygen in the Earth's
atmosphere.
This is all in addition to being the largest rainforest on the planet, and being home to more
than 10 million species of animals, plants, and insects.
The fires are started by dry weather, wind, and heat. While fires in the Amazon are somewhat
seasonal, the extent of the current fires is far higher than usual.
Many researchers are saying the fires could be directly caused by human action, or a side effect
of lower amounts of rain within the area.
Human activities like farming, drilling, and mining are what scientists say are creating this
situation.
The forest itself has already struggled with illegal logging, as well as mass deforestation from
farming and other agricultural practices, meaning that this increase of fires only seeks to increase
the damage.
The fires usually increase in the dry months of July and August, but the current amount has
been completely unprecedented. More than 72,000 fires have been detected by NASA and
NOAA satellites since January 2019.
Most of the recent fires are centered in the Amazon basin, an area particularly dense with plant
life, making it a particularly vital section of the Amazon Rainforest.
The fire cover is big enough that the smog and ash created from them are able to be seen from
space. Local cities are also seeing the effects of this massive fire.
In the city of Sao Paulo, the sky went dark from a cold front that changed the direction of the
winds and transported the smoke from the fires to the city, leading to a multitude of health issues
within the city.