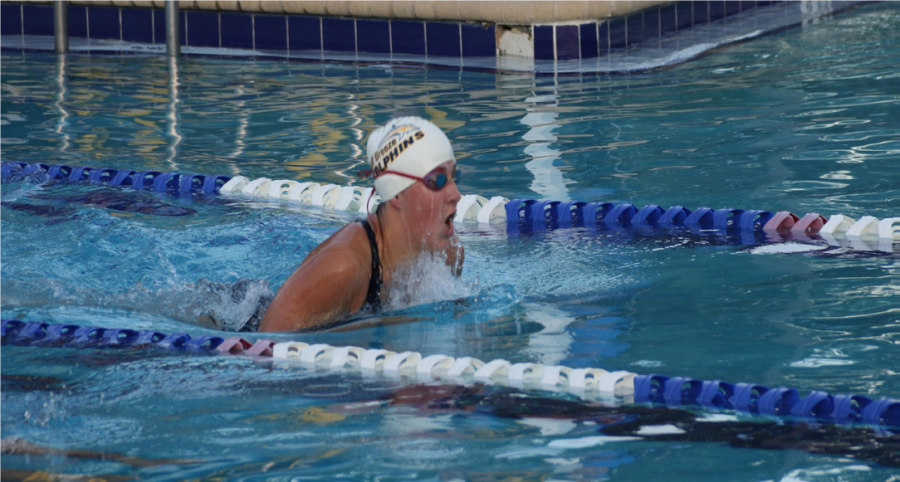 Photo by Julia Hamilton
MATTHEW BOURGEOIS
STAFF WRITER
On Sept. 4, the Gulf Breeze Dolphins swim team competed against Navarre with winning results. Though the team is flush with lower classman, they have no misgivings about their ability to perform.
Swimming 50m freestyle and the 100m breaststroke, Freshman Susi Hodge placed first in her heat and tenth over all during the meet.
Hodge has been swimming since age 4, and asked how it affected her life, she replies, "I want to get a scholarship, so it's literally all I do."
Alongside Hodge is freshman Hollyn Will. She has been swimming for the past seven years. Will has won first place in meets taking place at Washington High School, as well as the Dolphin's rival, Navarre, in the 50m freestyle, as well as the 200m freestyle relay.
Seeing as the Gulf Breeze properties doesn't have a swimming pool. Practice for the aquatic athletes is at the UWF swim center six mornings a week and a pair of afternoon sessions for a total of eight strenuous workouts a week.
Mrs. Morgan, mother of sophomore swim star Aiden Morgan, says, "My son's work out is crazy. He wakes up somewhere between four and five in the morning everyday, and his cardio is insane. He's a champion, and he's like that because I'm raising him. That's it; that's how that works."
Overall, Gulf Breeze stroked it's way to the top of the podium winning overall first place against Washington, Navarre, and Niceville.
Like all dedicated athletes, the state level is the goal, and with a crack squad of swimmers, a team of determined coaches, and a team wide high drive and desire for victory, the state meet of 2020 is within grasp.
Wyatt Sise, team captain says, "We got a lot of talent on our team and we work hard, so I have no doubt that some of our dolphins will make it to state and do well."