Neck and neck match for rivalry football game against Navarre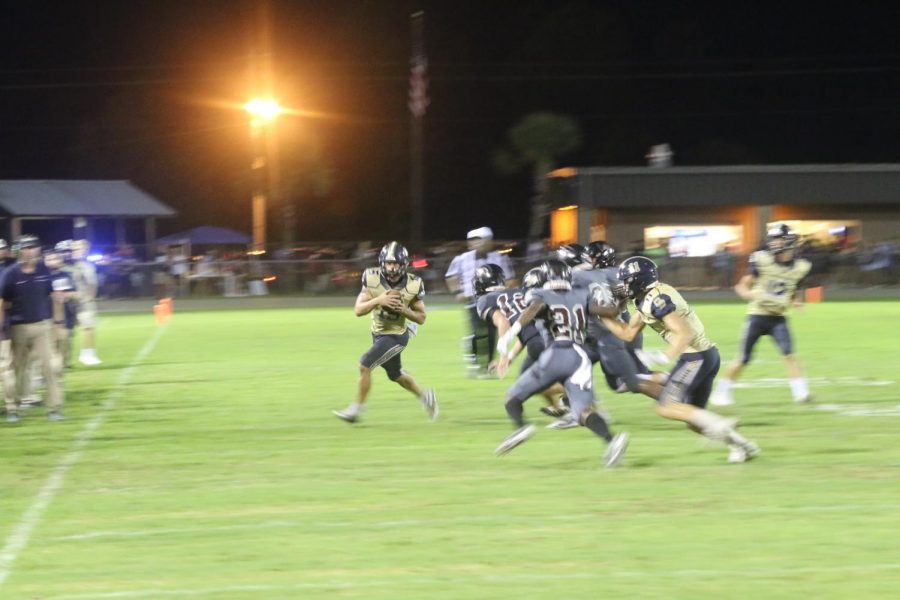 HANNAH GOTO
News Editor
Although it is only been two weeks into our school year, the Dolphin football team havs already faced rivals, the Navarre High Raiders. Although this anticipated match did seem rather early in the season for the first game of the season, this did not at all affect the wave of students, friends, and family who made the trek out to pack Bennett C. Russell Stadium.
The game started out with a bang, with the Raiders quickly scoring a touchdown and a point after touchdown (PAT). With the ball finally in their possession, and a 7 point deficit to fill, starting quarterback Ryland Mccurdy completed a 13 yard pass to senior WR Sam Sharp, who easily out-maneuvered the Raider's line of defense. This was quickly followed by a 31 yard run by sophomore Car­son Hepworth, which brought the Dolphins all the way to the end zone for their first points of the game. The Raiders wasted no time taking the lead again with another touchdown. By the end of the first quarter, the score was Dolphins 7 – Raiders 14.
As the Raider's lead continued on, a move was made by QB Mccurdy, quick on his feet as he saw his pocket closing around him, bring­ing the Dolphins 24 yards down the field with him, along with a first down. Motivated by this sudden progress, Senior running back and new Dolphin Trever Nelsen cleaned things up with a 15 yard run to the end zone to bring the score to Dolphins 14 – Raiders 21.
The third quarter found little success for the Dolphins, as Navarre managed to reach the endzone, with no response from Gulf Breeze until the fourth quarter. Even after the Raiders scored their final touchdown, Trever Nelsen wasn't shaken as he broke through the Raider's defense, sprinting down the field an astounding 59 yards to invigorate the Breezer crowd and put the Raiders on the run.
The chants of the Gulf Breeze students were ushered on by Trey Alexander, who capitalized on a messy throw in the 4th quarter for a suc­cessful interception at the 45 yard line, which later resulted in a Gulf Breeze touchdown.
This left the final score of the Dolphins v. Navarre at 21-28.
Tyrese Smith, a PNJ Super Senior and GBHS Captain, has hope for the rest of the season. He says that to secure wins, the team needs to "limit minor mistakes and start the way the game was finished."
We wish luck to the Dolphins at home next week against Catholic High.