Hangout festival is rapidly approaching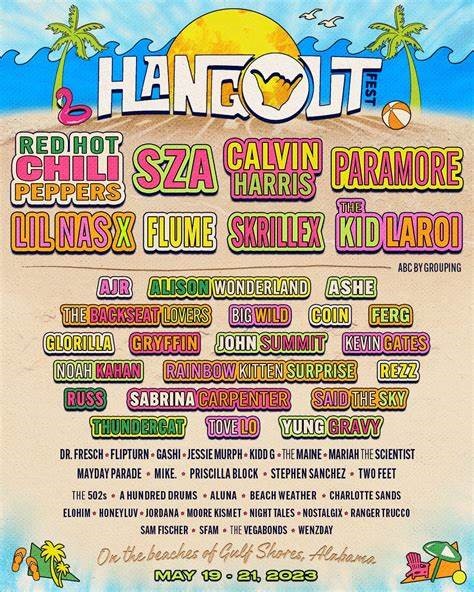 The biggest music event of the Gulf Coast is back again this summer. Hangout Fest, the annual music festival headquartered at The Hangout in Gulf Shores, Alabama, is scheduled to return May 19 – 21.  This year's lineup includes a diverse selection of stars and up-and-coming acts in hard rock, alt rock, pop, hip-hop and similar genres. 
     Hangout Fest is internationally known as one of the premiere beach-based music festivals in the world. Many music fans consider Hangout to be a bucket-list item, alongside such notable events as Coachella, Burning Man and others. The 2023 lineup has already made Thrillist's list of Best Music Festivals Around the World. Fans will be traveling in from across the southeast US for this event and we are lucky that it is just an hour-long car ride away. 
     Last year's Hangout Fest marked its first return since being shuttered due to the COVID-19 pandemic. It featured headliners Post Malone and Fallout Boy playing for 40,000 fans. This year could be even bigger, with huge names like Red Hot Chili Peppers, SZA, Calvin Harris and Paramore headlining the main stage. For SZA, fresh off the release of her newest album, this event must be extra exciting. And Red Hot Chili Peppers were one of the headliners of the 2020 Hangout Fest that was canceled. 
   Other big stars coming to the Hangout Fest include Lil Nas X, Flume, Skrillex and The Kid Laroi. They are backed by other trending acts including AJR, Alison Wonderland, Yung Gravy, The Backseat Lovers, Big Wild, Sabrina Carpenter, COIN, Mayday Parade and many more. All together, Hangout will feature more than fifty acts performing on five separate stages, surrounded by the sun, surf and sand of the Alabama Gulf Coast. On the official hangout fest Instagram account, when they announced the artist going Mayday Parade commented, saying, "So excited!" 
     Tickets to the three-day festival are available now at hangoutmusicfest.com. The current pricing starts at $339 for the three-day General Admission pass, which provides unlimited re-entry throughout the event including access to other activities like Roller Disco and Beach Volleyball. For all packages, payment plans are available and there are additional options such as shuttle passes and hotel/lodging packages for consideration. If anyone is interested in going, they must keep in mind that all ages are welcome, but people 17 and under must be accompanied by an adult over the age of 21. 
   This will be a huge music event in 2023 and it's not worth missing if it's only an hour away.