New GBHS teachers include GBMS TOY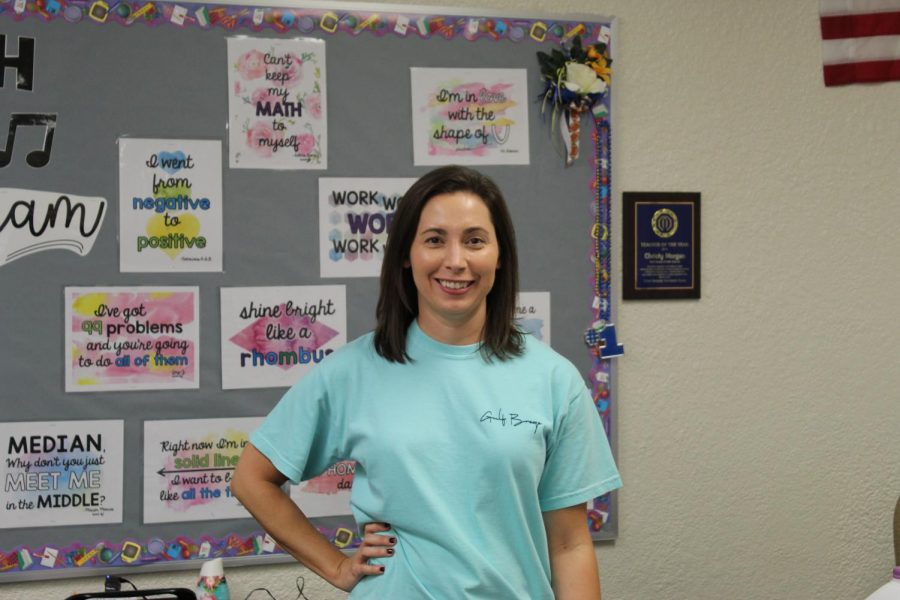 TREVOR HOWELL
STAFF WRITER
To be a teacher at Gulf Breeze High School is an astonishing honor. There are several new staff members added to the list of amazing people that teach at our A+ rated school. This includes Victoria Donahoo (Band), Lauren Gregory (English), Keith Nelson (ROTC), Mykel Robinson (Math), Rachelle Wood (Dean), Kelly Townsend (P.E.), William Ragsdale (Paraprofessional), Josh Treseler (Paraprofessional) and, last but most definitely not least, Teacher of the Year at Gulf Breeze Middle School in 2018-19, Christy Morgan.
She came to Gulf Breeze High School seeking change, allowing her to challenge herself mathematically. Mrs. Morgan also wanted to see if she could find the same connection to us young adults the same way she could connect to the middle school children. She started teaching at a young age, helping her mom who was a youth pastor at her local church. Her later appreciation for math started when her Algebra 1 teacher, Mrs. Eubanks, taught her that math can be enjoyable and fun in the correct environment. At that time math just clicked in her head and she decided this was her passion.
Mrs. Morgan attended the University of West Florida, and for 4 years she used her scholarship to help make college affordable. She likes her classrooms to be full of humorous jokes while still staying engaging and serious all at once to make sure the ratio between work and enjoyment stay in balance. Her favorite thing about Gulf Breeze High School so far is our school is extremely supportive, and in her own words, the staff is like a "fun family of teachers". Mrs. Morgan is honest; she has favorite students, but it depends on how they act each day. Her favorite famous quote is "Set your life on fire. Seek those who fan your flames" (RUMI).