Teacher of the Issue: Thacker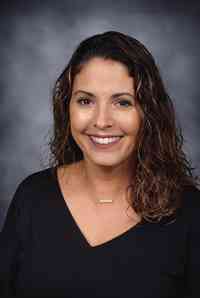 For the final, May, issue of the Blue & Gold, Mrs. Cheryl Thacker was nominated to be the Teacher of the Issue!
Thacker has had an extensive career in education, having taught for a total of 26 years. Bouncing back and forth from schools, Thacker first taught at GBHS in 2006, transferred, and returned a couple of years back.
"The students and teachers at GBHS are the reason I enjoy getting up each morning to come to work. This is a wonderful school and community and my smile each day shows how much I truly love being a part of GBHS," mentioned Thacker.
While her actual career in education may have lasted 26 years, Thacker always knew teaching would be a part of her life. "I have been 'playing school' since I was in kindergarten," she said. "My two childhood friends still joke about me always having to play the role as the teacher when we were young."
As a math teacher, Thacker also expressed a lifelong interest in mathematics, which has contributed to her success as a math teacher. "I always excelled in math, so it was easy to love something that comes naturally. Also, my Algebra 2 Honors teacher in high school showed me how fun math really can be. She showed me the relationships between previously learned concepts and Algebra, and it was like love at first sight."
In addition to spreading her love for math, Thacker also wants students to recognize the importance of the subject. She believes that math is crucial to learn, as it teaches students how to problem solve, think, and maintain an attitude of persistence in education. "I have also learned that my role is more than teaching mathematics. I must inspire, teach responsibility, teach students how to overcome their fears, and plan their future," added Thacker.
As with any career, after 26 years, challenges are bound to arise. For Thacker, these challenges have been constantly evolving throughout the years. "The last few years have been challenging since I had to adapt to teaching students virtually," Thacker admitted. "It pushed me to research new technology and the means to record videos with my notes." However, as someone who teaches persistence and problem solving, Thacker was able to make the most of this. "This old dog had to learn new tricks and I loved being challenged. I now believe these instructional videos help my students that need to rewatch a lesson or are absent for several days. While it was a challenge at first, these videos have become an important part of my curriculum to help students understand the math concepts."
Not only is Thacker a dedicated math teacher, but she is also heavily involved with other school duties, like The Senior Hall of Fame. While The Senior Hall of Fame has been a long-time tradition at GHBS, Thacker significantly expanded the process to include an interview and application, instead of just a faculty vote. "I feel that students today are busier than ever and should be rewarded for all their hard work and accomplishments. Choosing the top 10-13 seniors is an extremely hard task but rewarding because it provides inspiration for the future. These top seniors are so wise for their age and so much more involved in our community than I remember being in high school. They make the process worth all the work!"
When Thacker is not at school, she loves being out at the beach and enjoying the soothing and relaxing water. "I could sit in a chair at the edge of the water all day and read a book, stare at the water, or watch my children swim and play," Thacker added. Additionally, Thacker is a member of the service sorority, Beta Sigma Phi, made up of women from throughout Santa Rosa County. Together, they discuss community projects, as well as all of life's ups and downs. "I feel it is important for me to belong to a group of peers to further my love of being involved. I was always the student that participated in sports, student government association, and the band. I enjoy being a part of groups and helping the community and that love doesn't stop just because I am not a student anymore."
As for next year, Thacker is really looking forward to putting the last couple of years behind us to enjoy a "normal year." It will also be an exceptionally special year for her, as she will have both a senior and freshman at GBHS. "It will be a new and exciting venture for me as a mother and teacher and I can't wait."
"After twenty-six years of teaching, I have concluded that teaching is much like cooking," concluded Thacker. "You need a main course, sides, and to cook any delicious dish, you will need a recipe. The art of cooking can take years to master and so can teaching. I am still growing and learning and find my instructional processes changing based on my experiences and my students. My colleagues have inspired me and have influenced my teaching recipe to make me the chef I am today."