Ketanji Brown Jackson Confirmed to Serve on the SCOTUS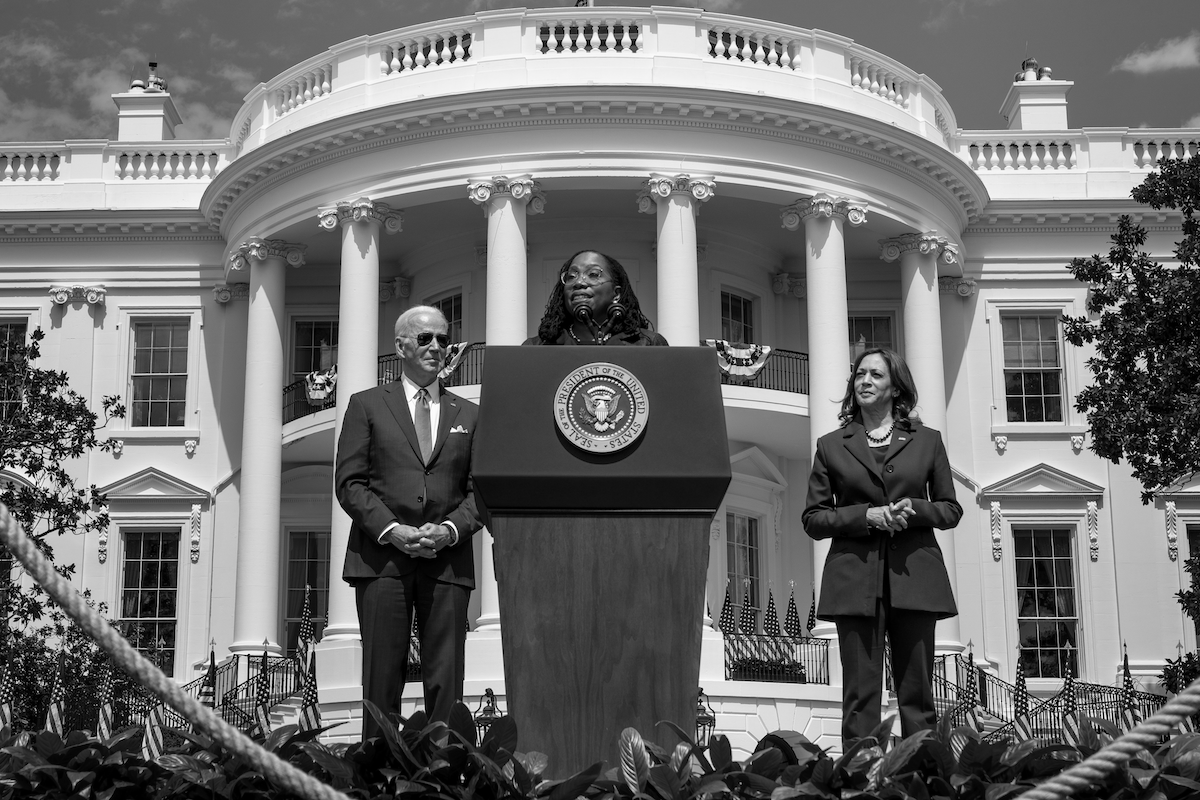 Elle Bobb, Editor-in-Chief, Print
April 18, 2022
The Senate confirmed President Joe Biden's Supreme Court nominee Ketanji Brown Jackson on April 7 in a landmark vote.
Jackson broke through historic barriers to secure her place as the first Black woman to serve on the Supreme Court of the United States.
Of the vote, Senate Majority Leader Chuck Schumer said that it was "a wonderful day, a joyous day, an inspiring day — for the Senate, for the Supreme Court and for the United States of America."
The tally was 53-47, with Republican Senators Susan Collins (ME), Mitt Romney (UT) and Lisa Murkowski (AL) joining Democrats to vote in favor of Jackson.
Jackson will be sworn in after Justice Stephen Breyer retires sometime this summer — until then, she will remain in her current position on the US Court of Appeals, but she has stepped away from cases when she was nominated in February.
"Ketanji Brown Jackson is an outstanding jurist and person. Brilliant, fair and a true and real person. She will be an immense credit to the Court and our country," said Supreme Court lawyer, Neal Katyal.
Jackson holds a bachelor's and law degree from Harvard University and has been a federal judge since 2013, serving on the U.S. District Court for the District of Columbia before moving to the D.C. Circuit. She was previously a public defender, a U.S. Sentencing Commission member and an attorney in private practice.
During her confirmation hearings, Jackson, 51, faced questions about her judicial philosophy — a crucial consideration in assessing how she would rule on key issues as a Supreme Court justice.
Republicans spent the confirmation hearings strongly questioning her sentencing record and credentials, which was criticized by many Democratic Senators.
Jackson told senators she would apply the law, "without fear or favor," and pushed back on Republican attempts to portray her as being too gentle on criminals she had sentenced.
"You could try and create a straw man here, but it does not hold," said New Jersey Sen. Cory Booker at the committee's first vote.
The panel deadlocked on the nomination 11-11, but the Senate voted to discharge it from committee and moved ahead with her confirmation.
"My parents grew up in a time in this country in which Black children and White children were not allowed to go to school together," Jackson said when asked what values her parents had impressed upon her. "They taught me hard work. They taught me perseverance. They taught me that anything is possible in this great country."
After presiding over the Senate chamber the historic vote, Vice President Kamala Harris said she is "overjoyed and deeply moved" at Judge Jackson's successful confirmation.
"[Jackson's confirmation sends] an important statement about who we are as a nation — that we have just made a decision to put this extraordinary jurist on the highest court of our land," Harris said. "It makes a very important statement about who we aspire to be, who we are, who we believe ourselves to be."