Baseball Season: Ups and Downs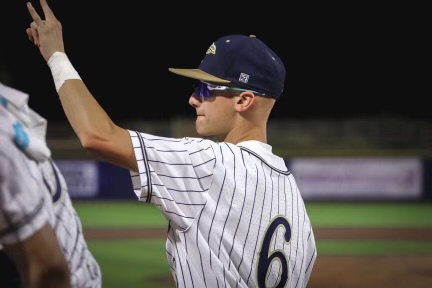 The last baseball season has been a roller coaster of sweet victory and hard fought defeat. At the moment the team ranks 12th in the A5 All-Florida Baseball rankings and 3rd in Region 1 with a 12-11 win loss ratio for the season.
"We've faced a lot of adversity this year but we've been able to overcome all of these obstacles and work for a state championship," varsity player Tommy Koch announced when asked for his thoughts on the past season. It is refreshing to see such a positive outlook in light of the recent disqualification that he and his fellow dolphins experienced from the Region 1 district championships. This is all the more unfortunate given that the team was most likely weeks from claiming its fourth consecutive district championship title.
This disqualification was done on the grounds of a technicality. In the semifinal matchup against Milton, sophomore Jacob Thorn pitched 112 balls which violated the Florida High School Athletic association rule that boys aged 15 to 16 can only pitch 95 or less balls per game.
The blame for this error has not been placed on any one person with Athletic Director Matt Alt explaining, "There was a misinterpretation of the rule, which there shouldn't have been. It's pretty black and white, but on the coach's end there was a misinterpretation."
Despite this seemingly collective shouldering of the blame, head coach Travis Mattair's resignation was confirmed on Thursday May 5th by Alt and accepted by Principal Danny Brothers. Mattiar's resignation is surely a loss for a team as accomplished as the Dolphins. After playing eight professional seasons, the previous Blue Wahoos infielder didn't think that he would ever be in a coaching position. The first sign of his passion for it was his time helping to enhance skills at a training center. This soon led to him traveling to watch some of his pupils play. "I realized then I had such a passion for teaching the game the right way," Mattair later said in a Pensacola Newsjournal report. "I went to a couple of these showcase baseball tournaments and saw the way kids were being coached and the negative energy on the field all the time."
Mattair took these experiences and decided that his future lay in developing the talents of young players. "It was almost a calling for me to say, 'Hey you can teach the game the right way, a positive way, and build relationships with these kids and make a big difference in their lives.' I built my own mindset on what a good leader and role model should be."
On July 26th, 2019 he was announced as the new head coach of the Gulf Breeze Dolphins and he continued to impress. Alt, who was the messenger of the tragic news concerning Mattair's resignation, had this to say about him in 2019, "One of the great things about Travis is that he's young, he's energetic, and he's a superb positive role model. Kids here will see how a person should be. We think Travis will provide that with our student-athletes and our community."
The Gulf Breeze Dolphins now find themselves without a head coach and Mattair will surely be missed. In response to the recent disqualification and perhaps the resignation of such a central figure in their lives, and despite the unfortunate bleaching of their hair in anticipation of their district win, the Dolphin boys have banded together to persevere in the face of scandal. So if you happen to see a group of boys with titanium blond hair walking the halls with an air of sad dignity, you may be looking at the boys who lost their championship and their coach to a technicality. Take a moment to congratulate them on a good season or simply show them the respect owed to someone who gave their all for their team no matter the outcome.