Club Beat: December
Optimist club supports Toys for Tots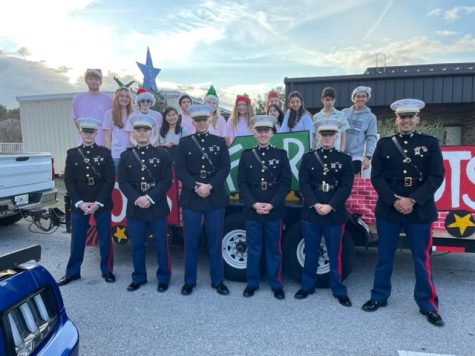 This year, the Gulf Breeze Optimist Club participated in the annual Gulf Breeze Christmas parade. They decorated their float in a Toys for Tots theme in order to bring attention to the charity. The Optimist Club also collaborated with local Marine Corp members and had six volunteers walk alongside their float. In addition to decorating their float, in the Toys for Tots theme, they are also holding a toy drive to donate to Toys for Tots.
SNHS holds annual science day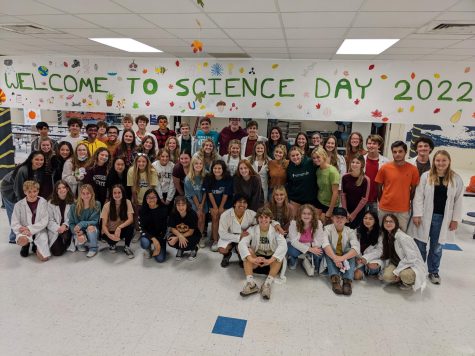 Gulf Breeze High School Science National Honor Society held their annual science day on November 11th at Gulf Breeze High School from 8 to 12 am. Science Day featured over 15 experiments, 5 science crafts and board games for kids to play. Science National Honors Society is sponsored by Mrs. Meredith, but all of the experiments, decorations and crafts are designed by the members of the honor society. Every year, science day has over 60 kids and their parents attend. The purpose of science day is to foster a love of science in the community and get more kids involved in science.
ROTC gains recognition
Photos by Keith Nelson
Mark Alano (left) receives a flag. Sarah Stillman (right) stands with her parents.
Senior Mark Alano and Junior Sarah Stillman both received recognition from JROTC this week. Stillman received her solo flying license. Alano was awarded a scholarship. Please congratulate these students if you see them.
Young Democrats Club does annual change drive
The Gulf Breeze High School Young Democrats Club carried out their annual change for the Homeless change collection. During the week before exams, the students made an announcement at lunch time that they were doing a collection. Then, members of the club went around during all three lunches collecting any spare change that students have. In years past, the club has raised hundreds of dollars all for homeless individuals and the Waterfront Mission Center.
More Club Beat:
Club Beat: Februrary – The Blue & Gold (gbhsblueandgold.com)
Club Beat: November – The Blue & Gold (gbhsblueandgold.com)